In our family, there is always a big pot of lentil soup on the table for lunch on Christmas Eve. Together with fried potatoes or Schnipperl, as they call it in Thuringia, where our tradition originated, it makes a very tasty lunch. And because he's so good, he reappears exactly one week later, on the last day of the year. But why do we actually eat lentils at Christmas or New Year? "That you always have a lot of change in your wallet", was the explanation to me as a child. Here, the custom is known elsewhere.
Also read: Half of Germans would like to do without gift packaging in order to preserve the environment – and you? >>
Lentils and peas are said to bring change
In the Ore Mountains, for example, there is a lens as part of Neinerlaa. Neunerlei, which is traditionally served at Christmas. Each of the nine ingredients of the dish has its own importance. Lentils and dumplings are always included. The remaining seven dishes may vary. Meat and bratwurst promise happiness, strength and prosperity. Legumes such as lentils, peas or millet bring change to the house. Dumplings make big money. But only if you don't count them or give an odd number. Celery in celery salad represents power and fertility.
Lentils in Italy
And in Italy, too, people rejoice and eat lentils – "lenticchie" with sausage – on New Year's Eve. The custom stems from the fact that on the last day of the year, a purse filled with lenses was given as a gift. Hoping that many, many small lenses will turn into money.
Also Read: Vegan Christmas Dinner: This Meatloaf Recipe Does Not Use Animal Products! >>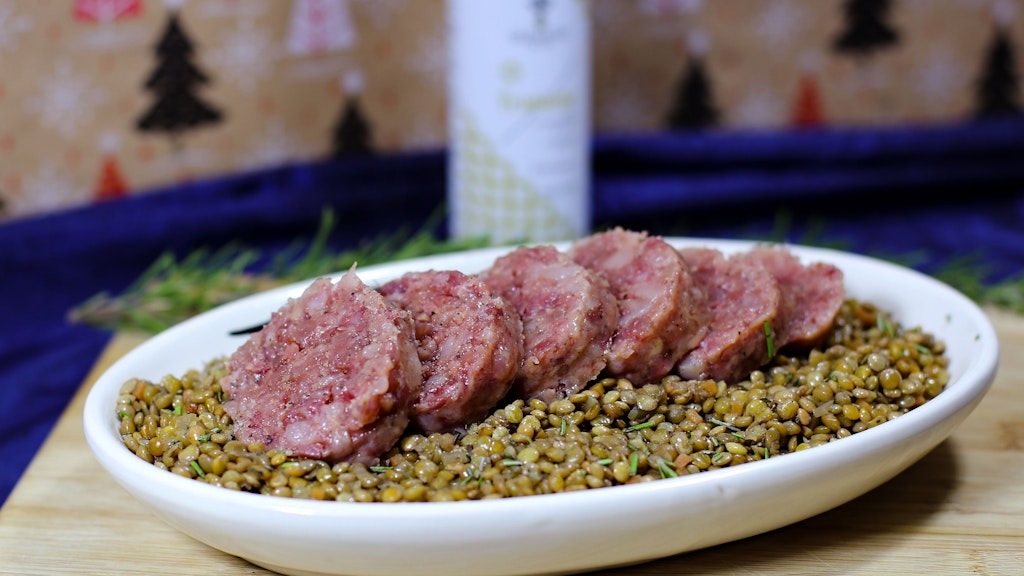 So the connection between lenses and money is ancient. In the Old Testament, Esau sells his birthright to his brother Jacob for a meal of lentils. Cinderella has to sort lenses. Vegetarians appreciate them because they contain 25 to 30 percent protein. Lentils were and remain a typical winter dish, once because there was rarely anything fresh available, today because it simply tastes good.
Also read: Hamburg Christmas dinner – the Hanseatic alternative to potato salad and sausages: a round piece warm >>
In the Czech Republic, lentils are eaten on January 1 to ensure enough money for the new year. In Hungary, people know a lentil dish for the New Year. "Hoppin' John", black pea stew is popular in America. By the way, in Scandinavian countries, people eat herrings, which resemble silver. In France and Spain, it is a well-known custom to eat twelve grapes at midnight.
Recipe from Rudni planini
Ingredients for 4 to 6 people lentil soup
You need a bunch of greens for the soup, 500 grams of lentils, 300 grams of potatoes, 2 onions, a gram of onion, 1 ring of sausage, 2 liters of water, 4 tablespoons of sugar, • 1-2 tablespoons of vinegar essence, salt and freshly ground pepper
And it's like this: without soaking, cook lentils with soup vegetables and a pinch of salt until soft. Depending on the type of lens, it takes from 45 to 60 minutes. During this time, separately cook the diced potatoes in a little water and salt until soft. Cut the sausage into rings and fry. When enough fat has leaked out, add onion cut into rings and fry, stirring constantly, until it becomes glassy and soft. Add finely chopped garlic.
Read also: Brussel sprouts and red cabbage in one recipe: THIS winter vegetable tastes simply heavenly!>>
Taste sweet and sour lentils
Add four spoons of sugar and mix. Remove the coarse vegetables from the soft-boiled lentils and add the potatoes with the cooking water and the sausage and onion mixture. Mix well and add 1 tablespoon of vinegar. Mix and taste! Add sugar and salt. A pinch of ground pepper completes the soup. Soup tastes even better when soaked and warmed!