Red lentils are a true all-rounder: they are rich in minerals, versatile, tasty and quick to prepare. We bring three recipes with red lentils that are suitable for everyday use.
Red lentils contain a lot of fiber and keep you full for a long time. In addition, with about 26 grams of protein per 100 grams, they are a good source of protein, especially for those who want to eat without animal products. They also contain iron, zinc and magnesium.
Unlike other types of lentils, you do not need to soak red lentils and they are fully cooked in 10-15 minutes. Legumes are therefore a great component for simple, healthy dishes such as lentil salad or lentil soup. Here you will find three more recipes with red lentils that you will easily integrate into your daily life.
Important: Use organic ingredients whenever possible. That way you avoid the chemical-synthetic ones pesticides and supports sustainable agriculture.
Red lentil Bolognese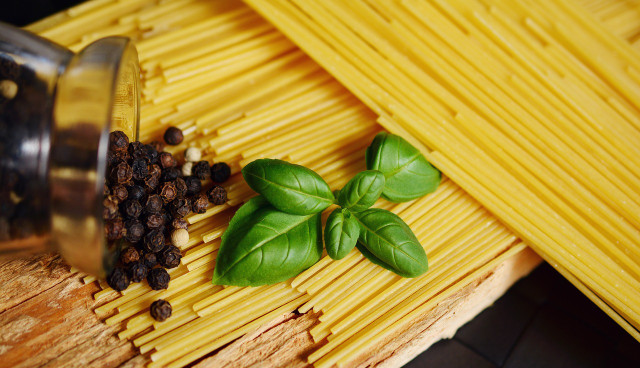 This Bolognese is an excellent vegetable alternative to the classic Bolognese sauce.
For two servings you need:
1 onion
1 clove of garlic
1 chili pepper
2 carrots
1 tablespoon olive oil
150 g of red lentils (dry weight)
3 tablespoons of tomato paste
300 grams of peel
400 ml Vegetable Soup
salt and pepper
oregano
basil
paprika powder
You need about 25 minutes to prepare:
Peel the onion and clove of garlic. Cut the onion into small cubes.
Chop the clove of garlic and chili. If you don't like it that hot, remove the seeds from the chili pepper first.
Wash the carrot and remove the ends. Then cut them into cubes.
Heat the olive oil in a pan.
Fry the onion and garlic in heated oil for 2-3 minutes.
Now add the chilli, carrot, lentils and tomato paste to the pan.
Let everything fry together for another two to three minutes, then deglaze everything with pelatas and vegetable stock.
Let the bolognese cook for 10 to 15 minutes. Season them with salt, pepper and spices.
Classic spaghetti goes well with this, but red lentil bolognese also goes well with other types of pasta.
Hearty red lentil recipe: lentil burgers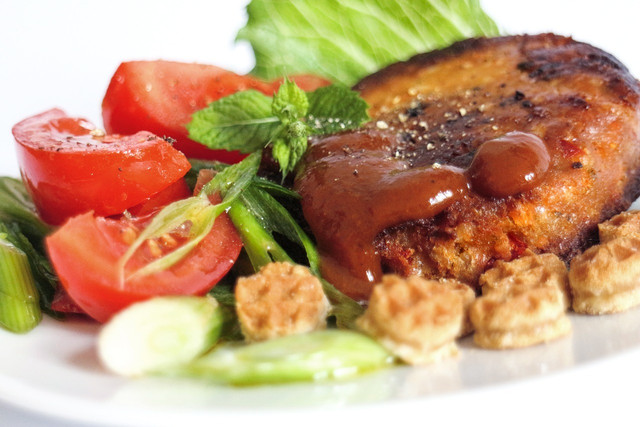 These red lentil patties are a delicious side dish with rice, potatoes or vegetables. But they are also suitable as finger food with a suitable sauce or as a patty for hamburgers. They taste great both hot and cold, and will keep in the fridge for several days.
For about 15 burgers, you need:
200 g of red lentils (dry weight)
1 onion
1 carrot
Fresh herbs of your choice, such as parsley and coriander
4 tablespoons of flour
4 spoons yeast flakes
salt and pepper
1 teaspoon of curry
1/2 teaspoon paprika powder
vegetable oil for frying
How to prepare lentil burgers in about 30 minutes:
Put the red lentils in a pot and cover with water. Let them cook for 10 to 15 minutes until the lentils are soft.
Meanwhile, peel the onion and cut it into small cubes.
Wash the carrot, remove the ends and finely grate.
Chop the herbs with a sharp knife.
Drain the lentils using a colander when done.
Put the lentils in a bowl together with the onion, grated carrot, herbs, flour and yeast leaves and mix all the ingredients well.
Season the mixture with salt and pepper and add curry powder and paprika.
Knead the ingredients into an elastic patty mass. If the mixture is too runny, add a little flour. If the mass is too hard, add a little water.
Heat the vegetable oil in a pan.
Form patties with your hands and fry them on both sides until golden brown. Patties should be cooked for about 3 to 5 minutes per side.
Red lentil curry with spinach and cauliflower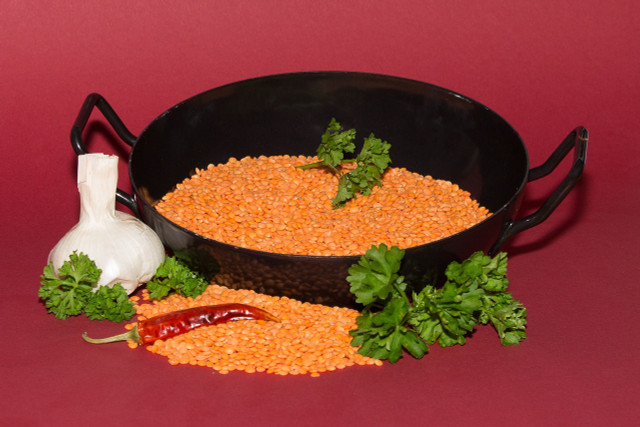 This red lentil recipe delivers two portions Lentil curry. For this you need:
1 onion
1 clove of garlic
1/2 chili pepper
200 g of spinach or Mangel
1/2 cauliflower
1/2 pepper
1 tablespoon of olive oil
100 g of red lentils (dry weight)
200 ml of vegetable soup
250 ml coconut milk
salt and pepper
1 teaspoon of curry
How to prepare red lentil curry in 30 minutes:
Peel the onion and the head of garlic and cut into small cubes.
Chop the clove of garlic and the chili pepper.
Wash the spinach and roughly chop it with a sharp knife.
Wash the cauliflower and cut it into bite-sized florets.
Wash the pepper, remove the core and cut into cubes.
Heat the vegetable oil in a pot.
Saute onion and garlic in heated oil for 2 to 3 minutes.
Add cauliflower and pepper and sauté for another 2-3 minutes.
Now add the lentils and deglaze with vegetable broth and coconut milk.
Let the lentils and vegetables cook for about 10 minutes.
Mix the chopped spinach into the lentils.
Season the curry with pepper and salt and add chili and curry powder.
Let it cook for another five minutes.
Lentil curry goes well with rice, couscous, potatoes or flatbread.
Do you know him yet? Utopia Podcast on Spotify, Apple Podcasts, Google Podcasts & what?
Read more at Utopia.de:
** marked with ** or underlined in orange Some links to supply sources are affiliate links: If you shop here, you actively support Utopia.de, because then we get a small part of the sales revenue. More information.
Do you like this post?
Thank you for your vote!