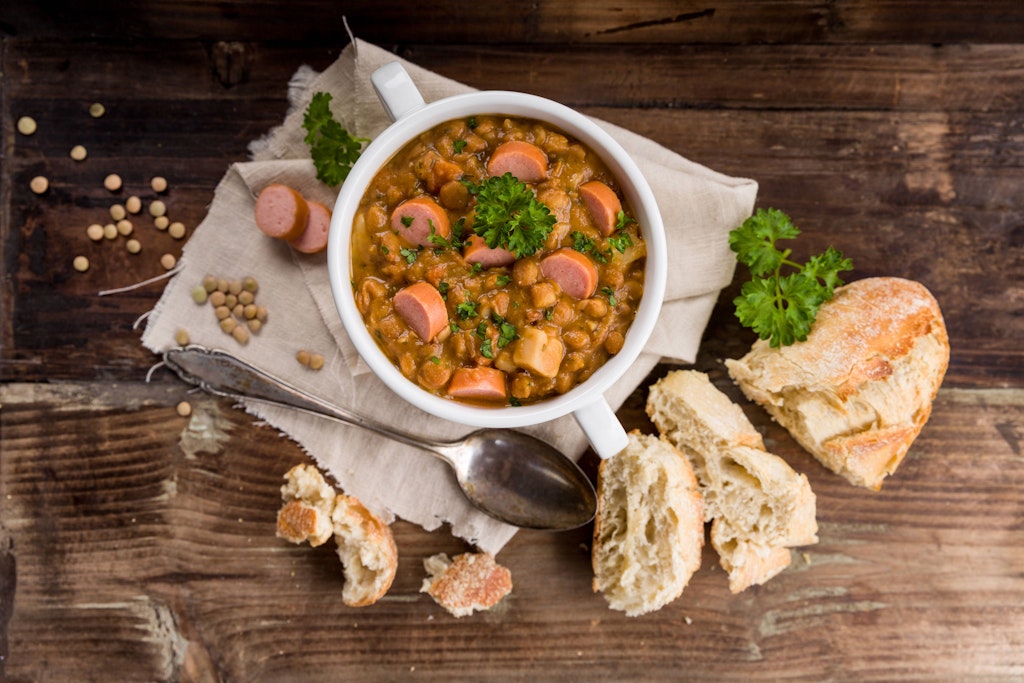 Which soup classics from the past do you still serve today? Maybe her classic soljanka – or cheese and leek soup with minced meat? There are stews that simply do not go out of fashion, while even amateur cooks use canned food for others.
Read also: Fantastic recipe: Do you know what a mother-in-law cake is? This cherry cake is simply a hit – you have to try it! >>
Recipe for lentil soup with sausages: You need these ingredients for it
The best example is lentil stew: with sausages, this dish is simply delicious, it brings back childhood memories… but why not cook it yourself? Here is a super simple recipe for lentil soup like grandma used to make!
Read also: This recipe is heavenly: Do you already know goulash casserole? It tastes like grandma's delicious goulash, only baked with cheese – and it works! >>
And it's super easy – the only thing doing the work here is cleaning the greens for the soup. Otherwise, there really isn't much to do – and the soup cooks itself while you can take care of other things. Adding mustard makes the soup really crunchy and spicy – that's why you should never use it sparingly. Here is a delicious recipe for the world's easiest lentil soup.
You need (for 2 people): 250 grams of lentils, 1 bunch of greens, 1 liter of vegetable stock, 1 onion, 6 sausages, 3 teaspoons of mustard, fresh chives, salt and pepper
Genius lentil soup with sausages: guaranteed to be very tasty
Here's how it works: Put the lentils in a pot of vegetable stock and bring to a boil. When the soup boils, everything should be cooked slowly for about 20 minutes. Meanwhile, peel the onion and cut it into small cubes. Clean the greens for the soup (preferably carrots, celery, leeks), cut the carrots and celery into small cubes, and the leek into half rings.
Read also: Do ​​you remember the "Holiday of the Sea"? THAT was on the menu in cult restaurants from the GDR – the prices are crazy! >>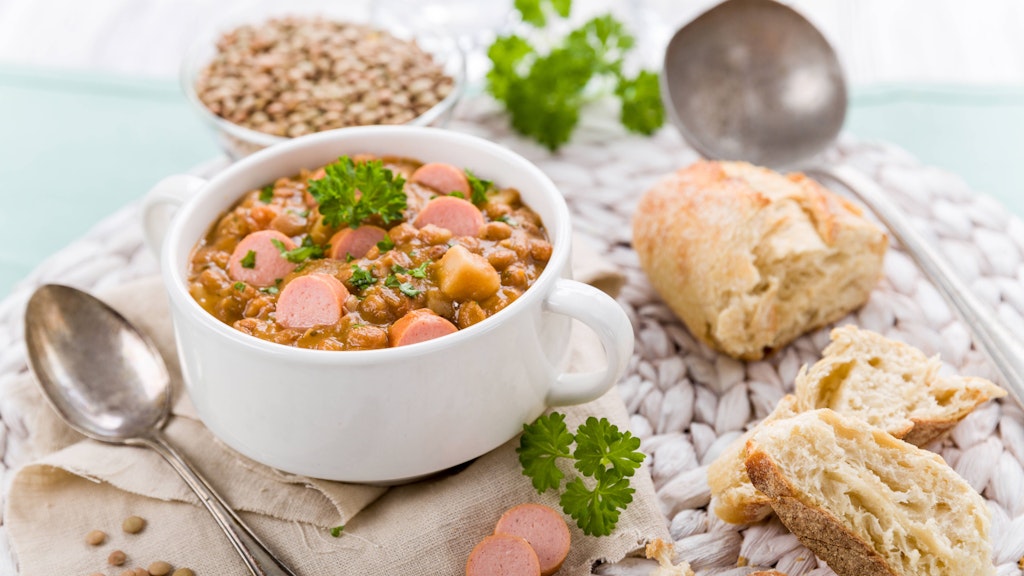 After 20 minutes of cooking, add onions and diced vegetables to the lentils. Now they have to cook for another 20 minutes. Important: Be sure to put the lid on, otherwise all the water will evaporate. If there is still too little liquid left, you can add some.
Also read: Quick to make and so tasty! Recipe for GDR classic: Ragout of fins – a traditional spice for chicken from the oven >>
cooking time expired? Then season as desired – salt, pepper, paprika powder and mustard if necessary. Mix well. At the end, sliced ​​sausages and chives cut into rings are added to the soup. Then let everything soak in, serve, done. A delicious slice of bread goes well with it. Enjoy your meal!